Secretlab is very famous for gaming chairs, but most of them are very expensive so that many people can't afford them. Fortunately this shape is not unique to Secretlab, VICTORAGE has this kind of shape as well and is also a great gaming chair brand worth buying.
 The overall shape of VICTORAGE Echo series is nearly the same as Secretlab's. The appearance of backrest is composed of a large plane and two wings, fitting the curve of the human body's back well while leaving enough space at the same time. The seat base is designed for optimal ergonomic support. A gentle curvature helps users to sit in healthy postures and the flared edges make even more room.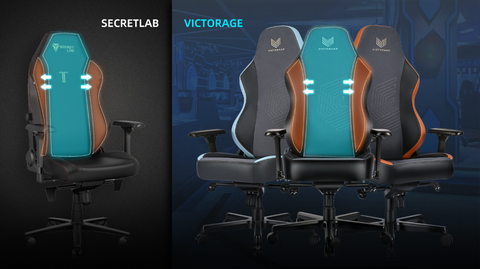 In terms of spare parts, there is not much difference between them. Secretlab features 4D armrests, frog mechanism, SGS class 4 hydraulics, aluminum base and PU casters while VICTORAGE does so as well. In this new batch of VICTORAGE gaming chairs released in Japan, most of gaming chairs have been upgraded to 4D armrest to allow the adjustment in one more direction in order to adapt to more different user habits.
 What the differences between VICTORAGE and Secretlab are the leather they use and lumbar support system.
 As what is described in Secretlab website, they use Hybrid leatherette. VICTORAGE innovatively applies microfiber fabric to gaming chairs. Microfiber fabric touches softer and smoother and will be more breathable with superior material performance, also with good wear resistance, tear resistance and strong tensile force. It is widely seen in the luxury sofa and automotive interior, but VICTORAGE gaming chairs offers a new access channel.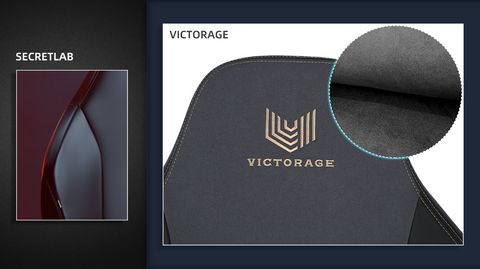 Secretlab's lumbar support system is built-in, adjusted by a knob at the side of backrest. It moves up and down and in and out to fit the spine. While VICTORAGE provides the traditional lumbar support cushion.
 All in all, In terms of comfort and quality, there is not much difference between VICTORAGE and Secretlab. But if the price factor is taken into account, VICTORAGE would be a more appropriate choice after all Secretlab costs more than $500, almost $200 more than VICTORAGE.