For someone who doesn't know much about gaming chairs, it might be hard to choose a better one as there are more and more gaming chairs on the market.

With the booming of esports gaming recently, the gaming chair gradually appears in people's eyes. More and more people start to pay attention to the gaming chairs and are also willing to buy themselves gaming chairs to ensure a cozier feeling.

However, there are too many choices on the market and it's not easy to tell if it's a good gaming chair or not just by its appearance as most of them are very similar. So here we take Victorage gaming chair as an example to compare it with others on the market to show how many aspects we should focus on.

1.Electrophoretic Q235 steel frame VS Ordinary steel frame
The frame is a very important factor in distinguishing the quality of a chair. It should be strong enough to bear the heavy weight and durable enough as well. Victorage uses Q235 steel as the raw material of its frame. What's more, the whole frame will be treated by electrophoresis. Compared with the ordinary steel frame on the market, Victorage's frame is welded by robot arm, which has the higher strength and precision.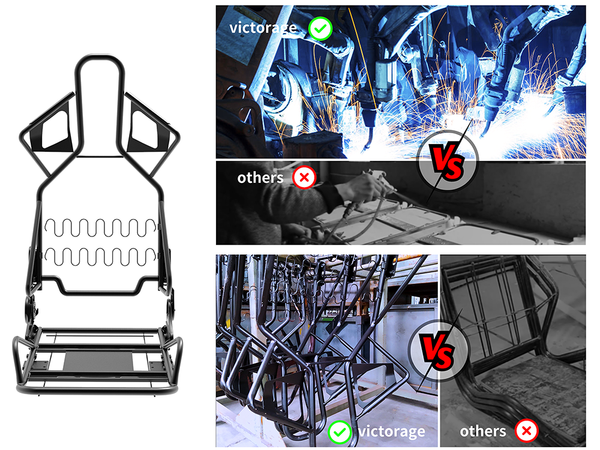 2.Eco-friendly integrated foaming sponge VS Recycled diced sponge
The sponge is also as important as the frame because it determines the sit feeling directly. A great gaming chair should have a high-density sponge to give body better support and help reduce the fatigue. That's how Victorage does it. Different from those who use the glue, Victorage uses the leading integrated foaming technology, making the sponge totally eco-friendly, non-toxic and odorless. Furthermore, they also did a number of experiments to get a range of density where the chair will be more comfortable.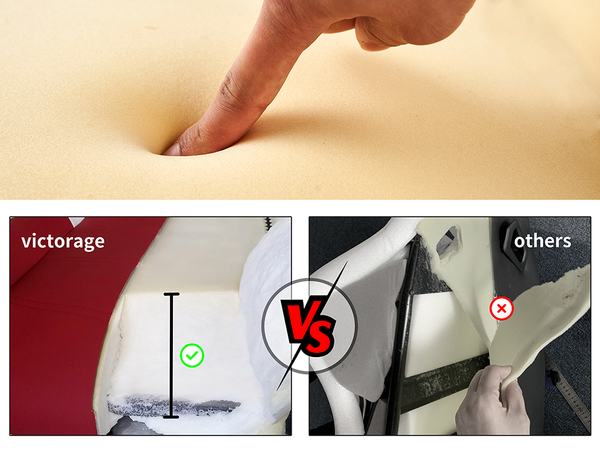 3.Premium leather VS Cheap leather
Flame retardant and abrasion resistance are two key factors to measure the quality of the leather. One is related to the safety and the other is related to the durability. A Premium leather should also be eco-friendly and odorless. What Victorage uses is solvent-free and eco-friendly PU leather, passing the Martindale rub test. The thickness of composite sponge is 6mm, which can increase the elasticity of the chair.